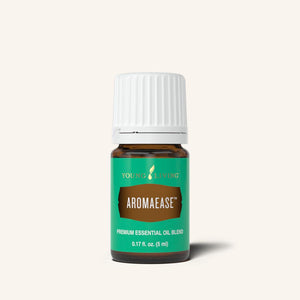 AromaEase Essential Oil Blend
AromaEase™ essential oil blend—a combination of Peppermint, Spearmint, Ginger, Cardamom, and Fennel—creates an aroma that is minty, sweet, and soothing and offers support during times of uneasiness in daily life or when you are traveling.
ABOUT
AromaEase is a unique blend formulated by Young Living Founder D. Gary Young.  Powerful individual oils come together to bring comfort and support through its soothing aroma. These oils have many benefits individually and smell and feel amazing when combined. Peppermint essential oil contains menthol, which cools and soothes fatigued muscles. When taken internally, it promotes healthy bowel function, supports gastrointestinal system comfort, and adds a fresh, minty flavor to foods.*
Spearmint essential oil provides aromatic comfort during times of occasional uneasiness when diffused or applied topically. When taken internally, it may provide digestive and general wellness support.*

Ginger essential oil is known as the oil of empowerment. It creates a warm, spicy aromatic experience when diffused or applied topically and may support a healthy digestive system when taken internally.*

Cardamom essential oil can be used aromatically or topically for its spicy, comforting aroma. When taken internally, it may support a healthy digestive system and gastrointestinal function.*

Fennel essential oil is comforting and balancing with its sweet, herbaceous, licorice-like aroma when applied topically. When taken internally, it supports a healthy digestive system and overall well-being.
DIRECTIONS
Topical:  Dilute 1 drop with 1 drop of V-6™ or olive oil. Apply to desired area as needed. Aromatic:  Diffuse up to 30 minutes 3 times daily.
FEATURES & BENEFITS
Has a minty, sweet, soothing aroma

Comforting and soothing when applied to the abdomen

A great travel companion for a soothing, comforting experience
SUGGESTED USES
Diffuse AromaEase at home, around the office, and in your car to create a calming and soothing aromatic environment. 

Apply AromaEase topically on your neck, shoulders, or abdomen for a refreshing sensation and soothing aroma.

Inhale it from the bottle to create a personal aromatic sanctuary when encountering strong, offensive odors in crowded, bumpy airplanes or trains.

Diffuse it in your car during long rides or road trips to refresh and revitalize.

Diffuse or apply it topically during times of uneasiness.

Diffuse and breathe in the aroma for support when experiencing the feeling of nervous butterflies in your stomach.
SAFETY
Keep out of reach of children. For external use only. Keep away from eyes and mucous membranes. If you are pregnant, nursing, taking medication, or have a medical condition, consult a health professional prior to use.
INGREDIENTS
Mentha piperita† (Peppermint) oil, Mentha spicata† (Spearmint) leaf extract, Zingiber officinale† (Ginger) root oil, Elettaria cardamomum† (Cardamom) seed oil, Foeniculum vulgare† (Fennel) oil †Premium essential oil
*These statements have not been evaluated by the Food and Drug Administration. Young Living products are not intended to diagnose, treat, cure, or prevent any disease.