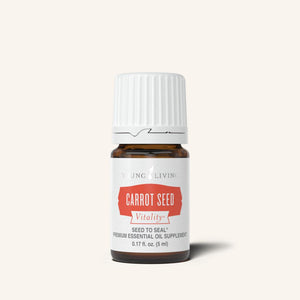 Carrot Seed Vitality™ may support women's health and liver health when taken as a dietary supplement. In addition, it has a unique flavor that can be added to dressings or grain dishes.*
ABOUT
Native to Europe and Asia and now naturalized in North America and Australia, the wild carrot plant is also known as Queen Anne's lace, as its delicate white blooms create a lacy, mesh-like appearance. Carrot Seed Vitality™ essential oil is distilled from the seeds and aerial parts of the plant, yielding an essential oil with an earthy, bittersweet carrot-like flavor that adds depth of flavor to savory dishes. In addition, it may support women's health and liver health when taken as a dietary supplement.*
DIRECTIONS
Put 4 drops in a capsule. Take 3 times daily.
FEATURES & BENEFITS
Has a rich, bittersweet, carrot-like flavor

Pairs well with Mediterranean and Asian cuisines

May support liver heath*

May support women's health*
SUGGESTED USES
Add 1–2 drops to a vegetarian gel capsule and take daily as a dietary supplement.

Add a drop to roasted vegetables for an extra earthy flavor.

Use a few drops of Carrot Seed Vitality in salad dressings to infuse fresh greens with its rich taste.

Give quinoa or wild rice a new dimension of flavor by including Carrot Seed Vitality.
KEY CONSTITUENTS
carotol, alpha-pinene, sabinene, and beta-caryophyllene
SAFETY
Keep out of reach of children. For external use only. Keep away from eyes and mucous membranes. If you are nursing, taking medication, or have a medical condition, consult a health care professional prior to use. Not for use during pregnancy.
INGREDIENTS
Carrot (Daucus carota sativa)† seed oil
†Premium essential oil
*These statements have not been evaluated by the Food and Drug Administration. Young Living products are not intended to diagnose, treat, cure, or prevent any disease.