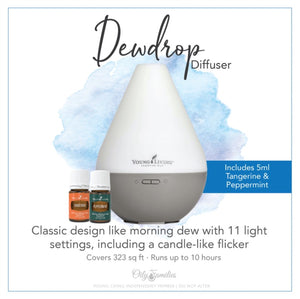 Includes a 5ml bottle of Tangerine & Peppermint (oils may be re-bottled from larger bottles.
Dewdrop™ Diffuser
Young Living's Dewdrop™ Diffuser functions as a humidifier, atomizer, and aroma diffuser in one simple-to-use product. Inspired by the purity and elegance of a drop of morning dew, the Dewdrop Diffuser's design reflects Young Living's dedication to providing high-quality essential oils. Its ultrasonic technology breaks any mixture of essential oils and water into millions of microparticles, disperses them into the air, and releases the constituents found in Young Living essential oils. Custom designed with up to ten hours of diffusion, automatic shut-off, and 11 LED light options, Young Living's Dewdrop Diffuser can transform any space into a spa-like atmosphere.
Transform your surroundings: The ultrasonic frequency generates waves at 1.7 million times per second, releasing essential oil molecules into the air to help create a relaxing, spa-like atmosphere in your home or office.