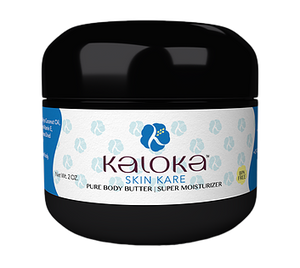 Indulge your skin with this PURE TROPICAL BODY BUTTER containing a proprietary blend of Botanicals, Antioxidants, Vitamins and a Mineral. KALOKA KARE is uniquely formulated to reduce the appearance of fine lines, scars and blemishes. Plus, deeply moisturize and soften, dry dehydrated skin, leaving it silky smooth, pampered and revitalized.
For Face: gently massage a small pea size amount onto clean skin.
For Body: Apply generously to all body parts that require deep moisturization and hydration. Reapply as often as needed to achieve desired results. Benefits last with continued/regular use.
FEATURES
Ultra Rich Moisturizer

Nature Inspired Formula

Certified Organic Ingredients

NO Alcohol

NO Toxic Chemicals

Light Coconut Scent

Microbiology Tested for Purity

Container is BPA FREE

Slightly greasy until rubbed in

Handmade in Small Batches

Made in the USA

NO Animal Testing (Cruelty Free)

Gluten Free

Vegan

Shelf Life 6 Months

NO Known Side Effects
KALOKA KARE IS PROUD TO FEATURE THE FOLLOWING NON-HARMFUL, PROPRIETARY INGREDIENTS:
Certified Organic Extra Virgin Coconut Oil-Effective moisturizing properties.
Reinforces the skins natural barrier.
Promotes suppleness, reduces the appearance of the signs of aging.
Certified Organic Bees Wax-Seals moisture in skin without smothering or clogging pores.
Humectant - attracts water promoting hydration, defends against environmental and weather elements.
Certified Organic Aloe Vera Gel as freeze dried powder.
Super moisturizing properties, rich in vitamins, softens and hydrates the skin.
Beta Glucan - Promotes sustained moisturization, skin appears smoother, reduces the appearance of fine lines and wrinkles.
Colloidal Silver- Fast absorbing, provides skin with intense moisture, skin appears softer.
Vitamin E- Ultra Moisturizer, Antioxidant rich, locks moisture into skin, prevents skin dehydration, skin appears smooth and supple, reduces the appearance of the signs of aging.
PRODUCT WARNING
For external use only.

Protect product from excessive heat and direct sun.

Store in cool dry place, can be refrigerated or warmed before use.

As with any new product, consult Physician for possible allergy.