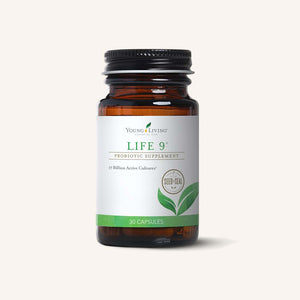 Life 9® is a highly potent probiotic with 17 billion live cultures from nine beneficial bacteria strains to support healthy immune function, maintain optimal metabolism, and promote normal intestinal function.*
30 Ct
ABOUT
Life 9 is a highly potent probiotic that supports healthy immune function, helps maintain optimal metabolism, and promotes normal intestinal function. With 17 billion live cultures from nine beneficial bacteria strains, one capsule daily will provide the probiotics you need to support your gut health.*
DIRECTIONS
Take 1 capsule every night following a meal or as needed. For best results, take 1 capsule 8 hours after using Inner Defense™.
FEATURES AND BENEFITS
Promotes healthy digestion*

Supports gut health*

Supports a healthy immune system*

Helps maintain normal intestinal function*
SAFETY
If you are pregnant, nursing, taking medication, or have a medical condition, consult a health professional prior to use.
INGREDIENTS
Calcium (as calcium carbonate), Life 9™ Blend: Lactobacillus acidophilus, Bifidobacterium lactis, Lactobacillus plantarum, Lactobacillus rhamnosus, Lactobacillus salivarius, Streptococcus thermophilus, Bifidobacterium breve, Bifidobacterium bifidum, Bifidobacterium longum, Microcrystalline cellulose, HPMC targeted-release capsule, Silica, Rice bran
SUPPLEMENT FACTS



Servings Per Container 30

Calcium (as calcium carbonate)

60

mg
*These statements have not been evaluated by the Food and Drug Administration. Young Living products are not intended to diagnose, treat, cure, or prevent any disease.