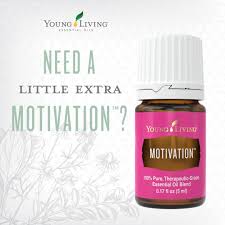 Motivation™ essential oil blend combines Roman Chamomile, Black Spruce, Ylang Ylang, and Lavender and has a powerful scent that may stimulate feelings of action and accomplishment, providing positive energy to help overcome feelings of fear and procrastination.
ABOUT
Formulated by Young Living Founder D. Gary Young, Motivation was created to give a boost of energy with its powerful aroma and to enhance the ability to move forward in a positive direction.
Roman Chamomile essential oil has a tranquil aroma that helps you unwind during your nighttime routine. Applied topically, it nourishes and moisturizes the skin, making it a great addition to your favorite lotion or facial moisturizer. It is often used in bath and body care products for children and babies.

Northern Lights Black Spruce essential oil has a grounding, earth-connecting aroma that enhances spiritual practices and is soothing to muscles after activity when combined with massage.

Ylang Ylang essential oil promotes the appearance of healthy-looking skin and shiny hair and has a calming aroma that sets the mood for romance.*

Lavender essential oil is the most universal oil and has a tranquil aroma that is soothing to the senses, as well as to the skin when applied topically. When taken internally, it contains antioxidants, may provide immune support, and can be used to add a floral flavor to your evening tea.*
DIRECTIONS
Topical: Dilute 1 drop with 1 drop of V-6™ or olive oil. Apply to desired area as needed.
Aromatic: Diffuse up to 30 minutes 3 times daily.
FEATURES & BENEFITS
Has a sweet, floral aroma

Contains balancing properties that uplift and inspire the heart and soul
SUGGESTED USES
Diffuse or apply it topically to jump-start your day.

Use it when setting goals to create an atmosphere of motivation.

Use it to promote feelings of belief, faith, self-confidence, and courage.
KEY CONSTITUENTS
Alpha bisabolol oxide A, Trans beta farnesene, Alpha pinene, Beta pinene
SAFETY
Keep out of reach of children. For external use only. Keep away from eyes and mucous membranes. If you are pregnant, nursing, taking medication, or have a medical condition, consult a health professional prior to use.
INGREDIENTS
Sesamum indicum (Sesame) seed oil, Salvia officinalis† (Sage) oil, Foeniculum vulgare† (Fennel) oil, Lavandula angustifolia† (Lavender) oil, Myrtus communis† (Myrtle) oil, Achillea millefolium† (Yarrow) oil, Mentha piperita† (Peppermint) oil
†Premium essential oil