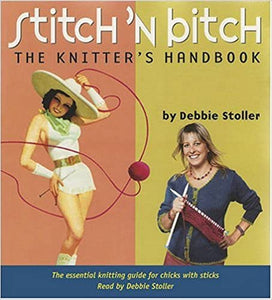 Learn how to knit with this essential guide for chicks with sticks. Stitch 'n Bitch is an irreverent, witty, guide to knitting which became a New York Times bestseller and made it possible to use the words "hip" and "knit" in the same sentence. Stollers sass will have you laughing over your knit and purl stitches.
Editorial Reviews
Review
Cool idea, no? Knit while listening to knitting. Not just podcasty knitting which tends to be opinion, and not always linear or well edited. Audio books are a very personal thing. It s not just content but the voices. For me, it was fantastic to hear Debbie Stoller read Stitch N Bitch, even though I've read it a couple of times. One thing I do find about audio is that it s a unique experience. Even though I ve read a book, with no plans to read it again, I will still listen and thoroughly enjoy listening to that same book. Now can we get Alan Rickman to read something? By Jillian Moreno, knitty.com --knitty.com
About the Author
Debbie Stoller comes from a long line of Dutch knitters. She is the co-founder, co-publisher and editor-in-chief of the feminist magazine BUST and the co-author of The BUST Guide to the New Girl Order. She is the author of Stitch n Bitch Nation, Stitch n Bitch Crochet: The Happy Hooker and Son of Stitch n Bitch: 45 Projects to Knit and Crochet for Men, coming November 2007. She lives in Brooklyn with a closet full of yarn.
Debbie Stoller is credited with inspiring a whole new generation of knitters. Her Stitch ÔN Bitch books have a sassy style, and as the narrator she keeps the sass in her delivery. With wordplay like ÒTake Back the KnitÓ and ÒBlocking for Blockheads,Ó she definitely tries--too hard, in my opinion--to appeal to a hip listenership. There may be a way to produce a successful how-to-knit audiobook, but this attempt misses the mark. Knitting is a hands-on visual activity, so an audiobook has an uphill battle. Moreover, StollerÕs penchant for cutsey phrasing detracts, and references to patterns in the book but unavailable in an audio format exacerbate the weaknesses of the format. N.E.M. © AudioFile 2008, Portland, Maine-- 
Copyright © AudioFile, Portland, Maine