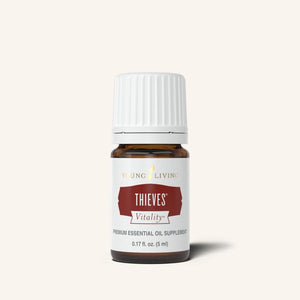 Thieves Vitality
Thieves® is a legendary blend of essential oils is formulated with Clove, Lemon, Cinnamon Bark, Eucalyptus Radiata, and Rosemary, which provide immune support and cleansing properties when taken internally.*
ABOUT
Thieves® essential oil blend is a powerful combination of Clove, Lemon, Cinnamon Bark, Eucalyptus Radiata, and Rosemary essential oils.  Formulated by Young Living founder, D. Gary Young, this blend was created from research recorded in the archives of the British Museum library about a group of 14th century European perfumers and spice traders who rubbed oils on themselves while they robbed the dead and dying. The first essential oil blend to be scientifically evaluated in a university research laboratory, Thieves has a rich, spicy aroma, and is a key ingredient in our Thieves Home Collection – your go to for an invigorating clean and healthy home.  Thieves Vitality offers the key benefits of overall wellness and support for a healthy immune system.* Thieves and Thieves Vitality are the same essential oil blend.
DIRECTIONS
Dilute 1 drop with 4 drops of a carrier oil. Put in a capsule and take once time daily.
FEATURES & BENEFITS
Immune support*

Cleansing to the digestive system*

General wellness support*

Antioxidant properties*
SUGGESTED USES
Add Thieves to a vegetarian gel capsule and take it as a dietary supplement to help support the immune system.*

Put a drop in your morning juice, tea, or coffee. The spicy, sweet flavor will give your morning beverage a flavor boost and provide antioxidant properties.*

Add a drop to oatmeal, granola, or other cereal to elevate your breakfast and help cleanse the digestive system.*

Take a shot of NingXia Red® with a drop of Thieves Vitality™ for a quick, spicy boost.*
SAFETY
Keep out of reach of children. If you are pregnant, nursing, taking medication, or have a medical condition, consult a health professional prior to use. If contact with skin occurs, avoid direct sunlight or UV rays for up to 12 hours.
INGREDIENTS
Clove (Syzygium aromaticum)† bud oil, Lemon (Citrus limon)† peel oil, Cinnamon, (Cinnamomum verum)† bark oil, Eucalyptus (Eucalyptus radiata)† leaf oil, Rosemary (Rosmarinus officinalis)† leaf oil
†Premium essential oil
*These statements have not been evaluated by the Food and Drug Administration. Young Living products are not intended to diagnose, treat, cure, or prevent any disease.